The other day, my human was telling me a bedtime story.  He happened to mention that some people believed that the moon was made out of cheese, until other humans went there and found out that it wasn't.  Well, I'm not completely convinced that this particular celestial body is not made out of deliciousness.  I like to sniff things out for myself.  I surely don't believe that Buzz Lightyear with his space helmet over his weak human nose was able to determine that the moon was, in fact, not constructed out of cheesy matter.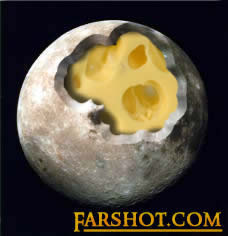 I've seen this moon thing a few times when I've looked up in the sky at pigeons.  Looks to me like a round piece of cheese.  I'd like to travel to this moon and give it a sniff, maybe test some moon rocks by eating them.  I'm pretty sure that the big question here is not "is the moon made of cheese," but rather...
..."What kind of cheese is the moon made out of?"